Blackmagic Design ATEM Mini HDMI Live Stream Switcher with Cable and Case Bundle
Blackmagic Design ATEM Mini HDMI Live Stream Switcher, Cable and Case Bundle
Blackmagic Design ATEM Mini HDMI Live Switcher
Koah Weatherproof Hard Case with Customizable Foam (13 x 11 x 6 Inch)
Monoprice Hook and Loop Fastening Cable Ties 6inch, 10pcs/Pack - Black
(Knox Gear Nylon-Braided 4K HDMI to HDMI Cable (6-Foot)
Blackmagic Design ATEM Mini HDMI Live Switcher
Blackmagic Design ATEM Mini HDMI Live Switcher
Blackmagic Design ATEM Mini HDMI Live Stream Switcher with Cable and Case Bundle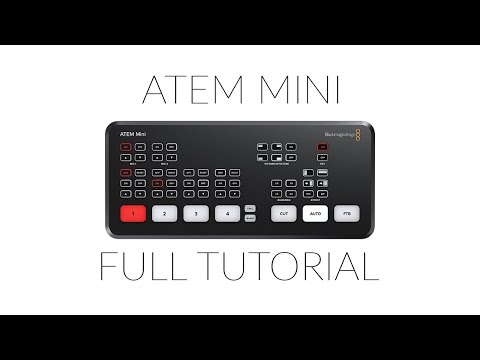 Product highlights:
4-channel live streaming with four HDMI inputs
One HDMI output for projector or external monitor
Supports up to 1080p60 10-bit 4:2:2 video
USB Type-C and RJ45 10/100 Ethernet interface
2-channel digital audio mixer
ATEM Ethernet control
Easy-to-view, backlit control buttons
Upstream and downstream keyers
DVE Transition, Chroma/Luma keyers
One pattern generator and two color generators
Pay over time for orders over $300 with Affirm.
---
---
---
Need help deciding?
Contact us right now!
Call or chat with one of our experts.
In the box
Blackmagic Design ATEM Mini HDMI Live Switcher
Blackmagic Design ATEM Mini HDMI Live Switcher
External 12V DC power supply with international socket adapters
Limited 1-Year Manufacturer's Warranty
Steren 6-Feet 4K HDMI High-Speed Cable with Swivel Head
Focus Camera Hook-and-Loop Fastening Cable Ties (9-Inch x 1/2-Inch, 10-Pack)
Koah Weatherproof Hard Case with Customizable Foam (10 x 9 x 7 Inch)
Blackmagic Design ATEM Mini HDMI Live Stream Switcher with Cable and Case Bundle
Live streaming for YouTube and Facebook is now a joy thanks to Blackmagic Design ATEM Mini HDMI Live Switcher. This Focus Camera bundle includes the Blackmagic Design ATEM Mini HDMI Live Switcher with Koah Weatherproof Hard Case with Customizable Foam (13 x 11 x 6 Inch), Knox Gear Nylon-Braided 4K High-Speed HDMI Cable with Ethernet (6-Foot) and Monoprice 6-Inch Hook and Loop Fastening Cable Ties (10-Pack, Black).
Blackmagic Design ATEM Mini HDMI Live Switcher
The ATEM Mini features 4 HDMI inputs and has an intuitive, easy to use design that makes it possible for anyone to live stream multi-camera productions online via services and software such as YouTube Facebook Live or even Skype. Simply connect 4 high-quality HDMI inputs that can be used for live switching cameras, computers, or even game consoles. You get a built-in DVE for an exciting picture in picture effects, broadcast-quality transitions, upstream keyers for removing blue and green screen background, a downstream keyer for superimposing custom graphics, audio inputs a mixer, and more. ATEM Mini also has a USB output that works like a webcam, so you can connect to any video software. There's also HDMI video out for projectors.
Faster Video Production Plus Live Streaming
Live production is the fastest way to complete a finished program, plus you can stream it to a live global audience via YouTube at the same time. The USB webcam output of ATEM Mini connects to any computer and looks just like a built-in webcam, so all streaming software for social media platforms work! With up to 4 HDMI inputs you can set up multiple camera angles such as wide shots along with independent close-ups of each person in the performance. Or you can connect to a computer with a PowerPoint slide show, video clip playback, websites, or gaming consoles. All switching is in real-time so you can live stream to any social media platform such as YouTube, Facebook, TwitchTV, and many more!
Self Contained Broadcast Quality Switcher
ATEM Mini's compact all in one design includes both a control panel and connections. The front panel includes easy to use buttons for selecting sources, video effects, and transitions. The source buttons are large so it's possible to use it by feel, letting the presenter do the switching! You even get buttons for audio mixing!
Easy to Use and Fast to Learn!
There's never been a switcher that's easier to use, as you simply press any of the input buttons labeled 1 to 4 on the front panel to cut between video sources. You can choose between cut or effect transitions by selecting the cut or auto buttons. Unlike cut, the auto button tells ATEM Mini to use a video effect when switching inputs. You can select from exciting transitions such as dissolve, or more dramatic effects such as dip to color, DVE squeeze, and DVE push. The DVE is perfect for picture in picture effects and you can instantly set up different picture positions. There is even a still store for titles and graphics accessible via external software control.
Stream Live Interviews
ATEM Mini is perfect for interviews as you can connect multiple cameras for close-ups of the host, or interviewee, as well as wide shots plus ATEM Mini is so small the host can even switch in small studios. You can record via the HDMI output or live stream using Open Broadcaster software!
Business Presentations via Skype
Get dramatically better business presentations on Skype because ATEM Mini makes Skype see it as a webcam, so you can select it in the Skype settings! One camera can be a close-up, another for a wide shot, and a computer for PowerPoint presentations. The presenter can even use picture in picture!
Live Stream eSport Competitions
Live stream eSport competitions to Twitch by simply connecting multiple gaming consoles and a camera for a presenter. ATEM Mini operates up to 60 frames per second for fast gameplay and you can use picture in picture for commentary! You can even download titles from Photoshop!
Education and Training
ATEM Mini is perfect for educational videos! Setup is fast and easy, so you can travel to locations and record live multi-camera video productions on a wide range of educational topics! Connect computers and cameras and use the ATEM Software Panel to load titles and perform video effects.
Outputs to HDMI Video and USB Webcam!
To ensure maximum compatibility, ATEM Mini features a USB connection that operates as a simple webcam source. That means you can plug in and instantly get working with any video software. The software is tricked into thinking the ATEM Mini is a common webcam, but it's really a live production switcher!
Add Exciting Video Effects
One of the benefits of ATEM Mini is the professional production values that are possible using the range of built-in video effects! The cut button ensures an instant cut when switching between sources. The auto button is a professional term that's used on large broadcast switchers to enable video effects transitions.
Work with Professional Microphones
With two independent 3.5mm stereo audio inputs, you can connect desktop and lapel microphones. You can even connect a music player to generate introduction music after the live stream commences but before the program starts. With 2 extra stereo audio inputs, you can ensure a host and guest both have lapel microphones when doing interviews. All audio inputs to ATEM Mini include buttons on the panel for adjusting audio level and enabling inputs into the audio mixer. ATEM Mini features a full Fairlight audio mixer and all HDMI audio inputs and both microphone inputs are all connected separately to the audio mixer so you can live mix from all audio sources.
Automatically Converts Any HDMI Input Format
Each of the 4 HDMI inputs features their own dedicated standards converter. That means ATEM Mini will automatically convert 1080p, 1080i, and 720p sources to the video standard of the switcher! By default, the switcher will set its video format automatically, however you can also set the switcher to a specific video standard you need!
Steren 6-Feet 4K HDMI High-Speed Cable with Swivel Head
The Steren 6-Feet 4K HDMI High-Speed Cable with Swivel Head is a great HDM connection for 4K, Full HD resolutions, and speedy network connections. It supports resolutions beyond 1080p, up to 4Kx2K. It also supports high video bandwidth up to 18Gbps. The Ethernet Data Channel shares a high-speed network connection. HDMI® High Speed with Ethernet Certified. Full 3D resolution capable. 180-degree Swivel Connector on one side. Supports Audio Return Channel (ARC) and all digital audio formats with up to 32 audio channels.
Focus Camera Hook-and-Loop Fastening Cable Ties (9-Inch x 1/2-Inch, 10-Pack)
Declutter your office, living room or any electronics with the Focus Camera Hook-and-Loop Fastening Cable Ties (9-inch x 1/2-inch, 10-Pack). These reusable ties attach easily using hook-and-loop material. This pack features 10 ties that easily fasten cables and wires for better organization.
Koah Weatherproof Hard Case with Customizable Foam (10 x 9 x 7 Inch)
This Weatherproof Hard Case from Koah comes with customizable foam that lets you store and protect a wide range of equipment like action cameras, camera bodies, lenses, or ammunition. Plus, the fully customizable foam interior provides an extra level of shock resistance, ensuring further safety of your valuable optics and electronics. This hard case complies with the highest protection standards and is constructed from impact- and UV-resistant polypropylene material.
Completely Weatherproof Design
The Koah Weatherproof Hard Case comes with an IP67 rating to provide complete protection against dust and debris. It is also waterproof when submerged in up to 1 meter of water for up to 30 minutes. Additionally, it utilizes a pressure relief valve that allows for gradual pressure equalization, while its ergonomic, rubber-covered handle provides reliable grip in any weather condition.
Ratings and reviews
Blackmagic Design ATEM Mini HDMI Live Stream Switcher with Cable and Case Bundle
Blackmagic Design ATEM Mini HDMI Live Stream Switcher with Cable and Case Bundle
---