Sony BRAVIA XR 77-Inch Class A80L 3.2 ch OLED 4K HDR Smart Google TV (Model 2023, Titanium Black)
Sony BRAVIA XR 77-Inch Class A80L 3.2 ch OLED 4K HDR Smart Google TV (Model 2023, Titanium Black)
Sony BRAVIA XR 77-Inch Class A80L 3.2 ch OLED 4K HDR Smart Google TV (Model 2023, Titanium Black)
Sony BRAVIA XR 77-Inch Class A80L 3.2 ch OLED 4K HDR Smart Google TV (Model 2023, Titanium Black)
Sony BRAVIA XR 77-Inch Class A80L 3.2 ch OLED 4K HDR Smart Google TV (Model 2023, Titanium Black)
Sony BRAVIA XR 77-Inch Class A80L 3.2 ch OLED 4K HDR Smart Google TV (Model 2023, Titanium Black)
Sony BRAVIA XR 77-Inch Class A80L 3.2 ch OLED 4K HDR Smart Google TV (Model 2023, Titanium Black)
Sony BRAVIA XR 77-Inch Class A80L 3.2 ch OLED 4K HDR Smart Google TV (Model 2023, Titanium Black)
Sony BRAVIA XR 77-Inch Class A80L 3.2 ch OLED 4K HDR Smart Google TV (Model 2023, Titanium Black)
Sony BRAVIA XR 77-Inch Class A80L 3.2 ch OLED 4K HDR Smart Google TV (Model 2023, Titanium Black)
Sony BRAVIA XR 77-Inch Class A80L 3.2 ch OLED 4K HDR Smart Google TV (Model 2023, Titanium Black)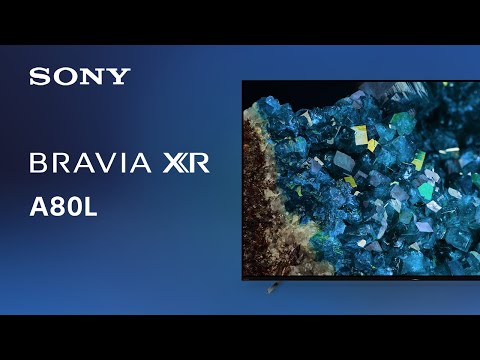 Product highlights:
Cognitive Processor XR for dynamic contrast and natural colors
Enhanced colors by XR OLED Contrast Pro and XR Triluminos Pro
Access to streaming apps in one place with Google TV
Supports Apple Airplay
Get high-quality 4K UHD movies on us with the BRAVIA CORE
High-performance gaming with HDMI 2.1
Acoustic Surface Audio+ and support for Dolby Atmos
XR OLED Motion delivers blur-free picture quality
Multi-position stand with three variations of flexibility
Eco Dashboard keeps energy efficiency settings in one place
---
Need help deciding?
Contact us right now!
Call or chat with one of our experts.
In the box
Sony BRAVIA XR 77-Inch Class A80L 3.2 ch OLED 4K HDR Smart Google TV (Model 2023, Titanium Black)
Sony BRAVIA XR 77-Inch Class A80L 3.2 ch OLED 4K HDR Smart Google TV (Model 2023, Titanium Black)
LR03 Battery
RMF-TX810U Voice Remote Controller
AC Power Cord
User Manual (Web)
Setup Guide
Limited 1-Year Warranty
Sony BRAVIA XR 77-Inch Class A80L 3.2 ch OLED 4K HDR Smart Google TV (Model 2023, Titanium Black)
The Sony BRAVIA XR 77-Inch Class A80L OLED 4K HDR Google TV (2023) offers exceptional OLED picture and rich sound in perfect harmony, powered by the intelligent Cognitive Processor XR.
Beautiful OLED Picture Powered by the Most Powerful Processor
Billions of accurate colors and pure OLED black make everything you watch and play come to life with natural hues and shades, powered by the intelligent Cognitive Processor XR.
The Screen is the Speaker for Picture and Sound in Perfect Harmony
Hear true immersive cinematic audio, with the sound produced from the entire screen delivering an elevated sound stage and clear dialogue.
The Entertainment You Love, With Help from Google
Google TVTM brings your favorite content from across your apps and subscriptions and organizes it just for you.
Game Time. Be Invincible
The BRAVIA XR TVs capture the awesome graphics and soundscapes of today's games. Pair with the PlayStation for absolute immersion.
Beautifully Designed to Compliment Your Viewing Experience
Focus on the big picture with the minimalist design that fuses the screen and bezel into a single slate. The TV is designed with the environment in mind - Sony TVs are engineered to deliver stunning designs with the environment in mind.
Wonderful Pictures with Bright, Pure Black OLED
See every single detail, even in dazzling light or deep shadow. This OLED TV, powered by the Cognitive Processor XR, maximizes picture quality for incredible realism.
Pure Blacks. Peak Brightness, Remarkable Contrast
XR OLED Contrast Pro boosts color and contrast in bright areas. With a temperature sensor and high luminance panel, the Cognitive Processor XR detects screen temperature and precisely controls the light. Extended color volume, now see every shade and hue. Over a billion colors are reproduced with the subtle differences seen in the real world. Powered by the Cognitive Processor XR, the XR Triluminos Pro with a wide color spectrum delivers natural shades in every detail. Experience more vivid colors and realism than conventional TV.
Less Noise. Less Blur, More Clarity in Every Picture
The XR-clear image reduces noise by utilizing zone division and dynamic frame analysis and minimizes blur. Noise is reduced, making broadcast and online videos much clearer and easier to view. Blur is minimized, so the action stays smooth.
Everything Upscaled Close to 4K
Whatever the content or source, images are upscaled close to 4K. XR 4K upscaling accesses a vast database to intelligently recreate lost texture and detail.
Intelligent Motion Processing for Smooth, Fast-Moving Action
XR OLED Motion combats blur by detecting and cross-analyzing key visual elements on successive frames. It creates and inserts extra frames between the originals for smoother and clearer action.
Beautiful Colors From Any Angle
Watching TV from the side is now as satisfying as from the center. The OLED panel keeps colors consistent and true, wherever you are watching.
Screen Sound, Ingeniously Immersive
The screen vibrates, turning every part of it into a speaker for powerful acoustics that move with the picture.
Sound from the Center of the Screen, Perfectly Matches the Action
With Acoustic Surface Audio+, sound comes directly from the right place in the scene. Far more immersive than conventional TVs, where the sound comes from beneath the screen.
All Your Entertainment Upscaled to 3D Surround Sound
XR Surround virtually creates surround sound using just the TV speakers for 3D audio without in-ceiling or up-firing speakers. The TV is compatible with Dolby Atmos.
Clear Voice, Precise Dialogue
Voice Zoom detects voices, analyzes them, and improves their clarity. With enhanced filtering, ambient elements are suppressed, so you can hear even faint TV dialogue clearly.
BRAVIA and Sony Audio, the Dream Team
Take entertainment further by pairing your BRAVIA XR TV with Sony audio equipment. You'll discover an unmatched audio-visual experience with outstanding XR picture and sound quality.
Acoustic Center Sync
With Acoustic Center Sync, you can turn both your compatible BRAVIA and the soundbar into center speakers. Precisely matching what you hear with what you see on your screen further immerses you in your home entertainment.
Ready for 360 Spatial Sound Personalizer
Tailor your Dolby Atmos experience by combining the SRS-NS7 wearable speaker with the BRAVIA XR for spatial surround. With some Sony headphones, you can also get the simulated surround of 360 Spatial Sound.
What You Want to Watch All in One Place
Browse 700,000+ movies and TV episodes from across your streaming services, all in one place and organized into topics and genres based on what interests you.
Bring the Cinematic Experience Home, Enjoy Movies included with BRAVIA
Explore today's top movies, instantly. With BRAVIA CORE, you can redeem up to five movies and stream them for up to 12 months. The exclusive movie content service with Pure Stream and IMAX Enhanced delivers stunning visuals and expressive sound.
Control your Smart Home with Help from Google
Use your voice to create the perfect viewing environment. Control smart home devices throughout your home. Adjust room temperature and lighting, see who is at the front door, and more. Connect your Alexa-enabled devices for seamless hands-free control of BRAVIA. With Alexa, you can power up your TV, change channels, control volume, and more. Stream from your device. Easily cast movies, shows, photos, and more from your phone right to your TV. Stream effortlessly to your TV from your iPhone, iPad, or Mac. Watch movies from apps or Safari. Share photos with friends in the room.
Ratings and reviews
Sony BRAVIA XR 77-Inch Class A80L 3.2 ch OLED 4K HDR Smart Google TV (Model 2023, Titanium Black)
Sony BRAVIA XR 77-Inch Class A80L 3.2 ch OLED 4K HDR Smart Google TV (Model 2023, Titanium Black)
---