b79a0525f4bd4a39b01b704414362234e170b09dd4f385ee4015ee9f2b96e195-3d876849efa55132.jpg
Canon EOS R Mirrorless Digital Camera (Body Only)
Canon 24-240mm f/4-6.3 IS USM RF Mount Lens
5e79e75bf97b4808a2b9d91a2e6f093c49e3580209ac9586d659022cde966d04-9959075e0dc58bc1.jpg
SanDisk 64GB Ultra UHS-I Class 10 SDXC Memory Card
Canon EOS R Mirrorless Digital Camera (Body Only)
Canon EOS R Mirrorless Digital Camera (Body Only)
Canon EOS R Mirrorless Digital Camera with 24-240mm Deluxe Kit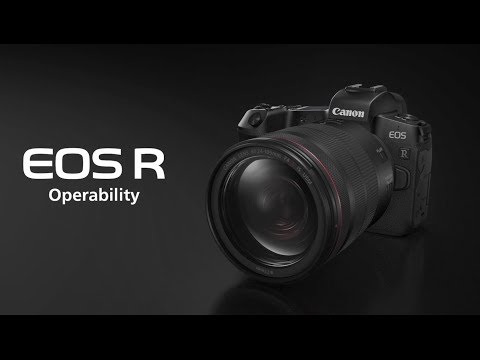 Product highlights:
30.3MP full frame CMOS sensor
DIGIC 8 image processor
Continuous shooting up to 8 fps
Ultra HD 4K video recording
3.15-inch Vari-angle LCD touchscreen
0.5-inch OLED electronic viewfinder
WiFi and Bluetooth connectivity
5,655 manually selectable AF points
Customizable multi-function bar
Canon 24-240mm f/4-6.3 IS USM RF mount lens
---
Need help deciding?
Contact us right now!
Call or chat with one of our experts.
In the box
Canon 24-240mm f/4-6.3 IS USM RF Mount Lens
Canon 24-240mm f/4-6.3 IS USM RF Mount Lens
Lens Cap E-72II
Lens Dust Cap
Limited 1-Year Warranty
SanDisk 64GB Ultra SDXC UHS-I Memory Card (100MB/s Read Speed)
SanDisk 64GB Ultra SDXC UHS-I Memory Card
Limited 7-Year Warranty
Canon EOS R Mirrorless Digital Camera with 24-240mm Deluxe Kit
The Canon EOS R Mirrorless Digital Camera packs a range of impressive features with a full-frame 30.3MP CMOS sensor that partners with the DIGIC 8 image processor to capture the most gorgeous, high resolution images and Ultra High Definition 4K video. A Dual Pixel CMOS AF system will give you fast and accurate autofocus. The EOS R is ready to capture any moment any photo or video you need to help your story flourish. Simply put, the Canon EOS R is for the artists aiming to perfect their art. This Focus Camera bundle includes the Canon EOS R Mirrorless Digital Camera with 24-240mm f/4-6.3 IS USM RF Mount Lens, Xit XTBP Deluxe Digital Camera/Video Padded Backpack (Black), and SanDisk 64GB Ultra UHS-I Class 10 SDXC Memory Card.
Canon 24-240mm f/4-6.3 IS USM RF Mount Lens
Designed for EOS R series camera, the RF 24-240mm F4-6.3 IS USM is a compact and lightweight 10x zoom lens for travel, and everyday photography. With a 24-240mm range, it can cover a variety of subjects at impressive ranges from 1.64 feet (wide-angle) to 2.56 feet (telephoto). Canon's Nano USM provides accurate and fast AF for still images and is noticeably silent during movie shooting as it smoothly tracks a moving subject. With these features and more, including a control that lets you easily change settings, this Canon RF lens gives you the extensive range you need so you can spend less time changing lenses and more time capturing amazing photos and videos.
Compact, Lightweight Construction
With a high-magnification of 10x optical zoom and offering coverage from 24mm wide-angle to 240mm telephoto, the RF 24-240mm F4-6.3 IS USM is a perfect all-in-one travel lens that can be used for any number of shooting scenarios. From landscapes to snapshots and videos, and anything else that catches your eye, the RF 24-240mm F4-6.3 IS USM range is highly adaptable.
High Image Quality and Bright f/4-6.3 Aperture
With an incredibly bright focal length lens, the RF 24-240mm F4-6.3 IS USM distinguishes itself by maintaining incredibly high image quality, edge to edge, even wide open at its f/6.3 maximum aperture. With 21 elements in 15 groups and a 7-blade aperture system, it can deliver sharp and detailed images with gorgeous background blur and remarkable consistency.
Built-in Optical Image Stabilization
The RF 24-240mm F4-6.3 IS USM lens is designed to work in conjunction with the EOS R series cameras, with both the camera and the lens sharing data to dramatically reduce camera-shake blur, regardless of the situation, whether shooting video or stills. With up to 5 stops of stabilization, it delivers impressively clear results.
High Speed, Smooth and Quiet Auto Focus
The RF 24-240mm F4-6.3 IS USM uses Canon's NANO USM system which combines conventional ring USM AF, and features a diminutive chip-shaped ultrasonic motor that's engineered to help deliver high-speed, smooth, precise and near-silent operation. It also offers full time manual focus when using One-shot AF mode.
Dynamic IS for Full-Frame Cameras
Helping to deliver a wide range of image stabilization correction, the RF 24-240mm F4-6.3 IS USM lens is the first Canon lens that features Dynamic IS for full-frame cameras. The built-in Image Stabilization helps enhance performance, even in low-light situations, and is especially effective when recording videos.
Control Ring for Direct Setting Changes
The RF 24-240mm F4-6.3 IS USM lens incorporates a control/focus ring on the lens barrel that can directly adjust numerous settings including shutter speed, aperture, exposure compensation and more. Located towards the end of the lens, the control/focus ring has a tactile, easily distinguished surface and provides tangible feedback for confident use while looking through the viewfinder. The RF 24-240mm F4-6.3 IS USM lens does not have the clicking mechanism as the previous RF lenses have, providing smooth focusing and exposure control while recording videos.
12-Pin Communication System
Designed to quickly process data, the RF 24-240mm F4-6.3 IS USM features a 12-pin communication system that is the fastest yet for a Canon lens/camera combination. This accelerates AF, Image Stabilization, the Digital Lens Optimizer and more, helping to simplify complex operations and provide a quick and reliable user experience. Another helpful feature, the EOS R series cameras can display lens information right in the viewfinder, making it easy to confirm the lens's focal length without looking away from the subject at hand.
In-Camera Digital Lens Optimizer
The EOS R system's 12-pin communication system enables the Digital Lens Optimizer, which works in-camera to combat aberrations and image deterioration, especially in the edges of the image frame when shooting at a large aperture. Data from the lens is transferred automatically to the camera body, facilitating near immediate correction for clear, detailed images.
Koah Sling Camera Bag
The Sling Camera Bag from Koah is a semi-soft camera backpack that fits one DSLR camera and up to three lenses and accessories. Designed with efficient organization in mind, this compact camera bag packs a lot into its portable frame.
Spacious yet Compact
The Koah Sling Camera Bag features a spacious, padded main compartment with adjustable padded dividers. The bag also comes with an additional zippered accessory organizer for holding gear like a spare battery, charger, HDMI cable, and memory card.
Ergonomic Design
With the adjustable padded shoulder strap and sturdy design, you can take the Sling Camera Bag with you virtually anywhere. It also features an ergonomic cushioned handle for extra comfort.
SanDisk 64GB Ultra SDXC UHS-I Memory Card (100MB/s Read Speed)
Take better pictures and Full HD videos with your compact to mid-range point and shoot cameras. This SD card is ideal for storing tons of photos and videos. With speeds up to 100MB/s to quickly transfer it all to your computer.
Capture the Moment
This SanDisk Ultra SD card delivers exceptional photo and video shooting performance to let you capture your memories when they happen.
Picture and Video Perfect
Capture amazing quality pictures and Full HD video with your compact point-and-shoot camera.
Keep Shooting
Delivers sufficient storage space so you can shoot tons of photos and hours of Full HD video (1080p) without changing the card.
Rugged and Durable
This SanDisk Ultra SD card is durability tested to protect your memories from life's mishaps - waterproof, shockproof, x-ray proof, and temperature-proof.
Ratings and reviews
Canon EOS R Mirrorless Digital Camera with 24-240mm Deluxe Kit
Canon EOS R Mirrorless Digital Camera with 24-240mm Deluxe Kit
---