Nextbase 522GW Full 1440p HD Recording 3-Inch Wi-Fi GPS Bluetooth Enabled Dash Cam with Night Vision
Nextbase 522GW Full 1440p HD Recording 3-Inch Wi-Fi GPS Bluetooth Enabled Dash Cam with Night Vision
Nextbase 522GW Full 1440p HD Recording 3-Inch Wi-Fi GPS Bluetooth Enabled Dash Cam with Night Vision
Nextbase 522GW Full 1440p HD Recording 3-Inch Wi-Fi GPS Bluetooth Enabled Dash Cam with Night Vision
Nextbase 522GW Full 1440p HD Recording 3-Inch Wi-Fi GPS Bluetooth Enabled Dash Cam with Night Vision
Nextbase 522GW Full 1440p HD Recording 3-Inch Wi-Fi GPS Bluetooth Enabled Dash Cam with Night Vision
Nextbase 522GW Full 1440p HD Recording 3-Inch Wi-Fi GPS Bluetooth Enabled Dash Cam with Night Vision
Nextbase 522GW Full 1440p HD Recording 3-Inch Wi-Fi GPS Bluetooth Enabled Dash Cam with Night Vision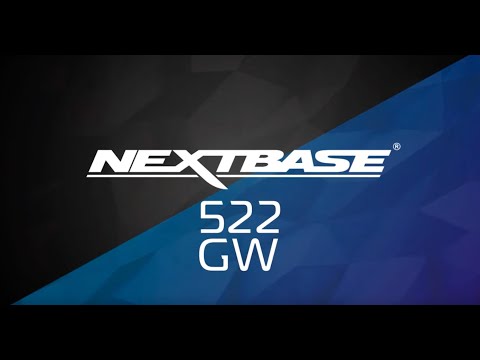 Product highlights:
522GW Dash Cam
Features emergency SOS
3 Inch HD IPS Touch Screen
Intelligent parking mode with built-in Alexa
GPS tracking with loop recording
Enhanced night vision
Records in full 1440p HD at 30fps
An improved 6G glass lens
Bluetooth 4.2 and Wi-Fi connectivity
Exclusive Click&Go PRO GPS mount
Pay over time for orders over $300 with Affirm.
---
---
---
Need help deciding?
Contact us right now!
Call or chat with one of our experts.
In the box
Nextbase 522GW Full 1440p HD Recording 3-Inch Wi-Fi GPS Bluetooth Enabled Dash Cam with Night Vision
Nextbase 522GW Full 1440p HD Recording 3-Inch Wi-Fi GPS Bluetooth Enabled Dash Cam with Night Vision
Click&Go PRO GPS Mount
Power Cable Fitting Tool
Spare 3M Adhesive Pad
USB Cable
Car Power Cable
Limited 6-Month Warranty
Nextbase 522GW Full 1440p HD Recording 3-Inch Wi-Fi GPS Bluetooth Enabled Dash Cam with Night Vision
The Nextbase 522GW Dash Cam has an easy-to-use big touch screen and a built-in polarizing filter. The 522GW fits a great big screen and loads of fantastic features into a tiny package. Amazon Alexa has built-in features to be hands-free. Ask Alexa to get directions, play your tunes, check the weather, control smart home devices, find parking, and even control your dash cam.
Reflection Free Lens
The Nextbase 522GW Dash Cam features a built-in polarizing filter to reduce glare and reflection. The 522GW's built-in polarizing filter dramatically reduces windshield glare and reflection, so you can capture it all. The rotating bezel makes it easy to set up the lens however you need it.
Touch Screen
With a 3-inch HD IPS touch screen, the 522GW provides the ultimate user experience. Dash Cam menu selection, playback, and file sharing are easier and slicker than ever before. There are two main benefits to using a touch screen. Firstly, the dash cam can be made smaller and less obtrusive, as we no longer need to add buttons beside the screen. Secondly, it makes the unit a lot easier to use. With each option taking up 1/4 or 1/2 of the screen, it is a lot easier to make the selection you need.
1440P HD Recording
The 522GW records in stunning 1440p HD at 30 fps and has an
improved 6G glass lens, so you can capture essential details like road signs and number plates.
Emergency SOS Response
In the event of an incident where the driver is unresponsive,
Nextbase Emergency SOS can alert emergency services to your location and approve personal details. This ensures emergency services can respond quickly without relying on other road users' essential support when driving on rural or quiet roads. When an incident is detected, the emergency SOS system will go through an anti-false-positive master process. If this master process completes, the phone enters beacon mode, where if the phone remains still or is unanswered, an emergency alert is sent.
Intelligent Parking Mode
With Intelligent Parking, your dash cam will start recording
when someone bumps into your car.
Easy to Attach
The exclusive Click&Go PRO GPS mount uses high-strength magnets, instantly linking the mount's power source to the dash cam. The exclusive Click&Go Pro car mount has integrated magnetic power connectors, so you can install and remove your dash cam with just one hand. The high-strength neodymium magnets on the mount and dash cam click themselves together, so you are ready to go. The power cable installs directly into the mount, allowing the dash cam to be completely wireless. All Series 2 dash cams include the Click&Go Pro mount as standard, with a 3M adhesive pad as the default fitting method. There are over 115 patents and registered designs worldwide covering the Series 2 dash cams, mounts, and modules.
Share Video and Photo Files Directly
The Wi-Fi feature in Nextbase dash cams enables you to download and share video and photo files directly to your phone or tablet. You can then share the footage with your family, friends, insurance provider, or the police. Videos can easily be shared via all the major sharing platforms,
including Facebook, Twitter, and YouTube, as well as directly via the Nextbase website. The MyNextbase Connect App acts as your own personal storage point for all Nextbase clips. You won't miss a thing with our wireless dash cam!
Bluetooth and Wi-Fi Connectivity
Using Bluetooth 4.2 Low Energy technology and Wi-Fi connectivity, your Nextbase dash cam can easily send the latest video files to your smartphone or tablet. Your dash cam will automatically record two video files (high and low resolution), meaning you can easily view videos quickly while having the full high-quality file available to download if you need to zoom in later. It is quick and easy to edit and share your footage with your insurer using the MyNextbase Connect App on Android and iOS.
Record Speed and Location Accurately
Improved 10Hz GPS, with the aid of Google Maps, accurately records speed and location data. GPS records accurate speed and location data for your dash cam while you are driving. This will keep track of your vehicle's physical location, the route traveled, and the speed you are going. This can be vital in pinpointing exactly where an incident has happened, which can be crucial in an insurance claim.
Ratings and reviews
Nextbase 522GW Full 1440p HD Recording 3-Inch Wi-Fi GPS Bluetooth Enabled Dash Cam with Night Vision
Nextbase 522GW Full 1440p HD Recording 3-Inch Wi-Fi GPS Bluetooth Enabled Dash Cam with Night Vision
---