11068_NexStar_6SE_ Computerized_Telescope_3.jpg
Celestron Nexstar 6SE SCT GoTo Telescope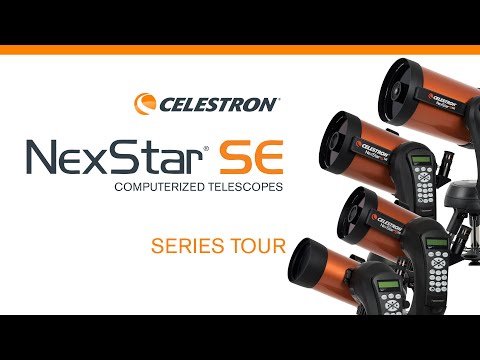 Product highlights:
Patented single fork arm mount
Portable and setup is quick and easy
Breaks down into several lightweight and compact pieces
Sturdy construction from high-quality components
Features the Aptina AR0132 CMOS imaging sensor
View and capture live video of the Sun, Moon, and planets on your computer
Manually adjust gain, exposure time, and frame rate
Machined aluminum 1.25 inch adapter barrel with C-threads
Includes a hand control and star pointer finderscope
---
Need help deciding?
Contact us right now!
Call or chat with one of our experts.
In the box
Celestron Nexstar 6SE SCT GoTo Telescope
Celestron Nexstar 6SE SCT GoTo Telescope
6-Inch Schmidt-Cassegrain OTA

25 mm 1.25-Inch Eyepiece
1.25-Inch Star Diagonal

StarPoint Finderscope
NexStar Alt-Az GoTo Mount

Tripod with Accessory Tray

NexStar Hand Controller
Two-Year Limited Warranty
Celestron Nexstar 6SE SCT GoTo Telescope
Celestron's signature orange-tube telescope combines advanced features and excellent optics in one easy-to-use system, the NexStar 6SE. It's the perfect choice for your first serious telescope, offering striking views at an economical price.
Reimagined
In the 1970s, Celestron's Schmidt-Cassegrain telescopes brought the hobby of astronomy to the masses and established Celestron as the world's premier telescope maker. The founder, Tom Johnson, invented Celestron's proprietary method of producing Schmidt corrector plates for superior views and maximum portability. Johnson believed in creating high-quality optical instruments at an affordable price, and inspired a generation of amateur astronomers.
Four decades later, Celestrons improved upon this design by adding cutting-edge features, while staying true to their founder's intent.
Revolutionary Design
The best telescope is the one you will use most often. That's why Celestron's engineers created NexStar SE's unique, patented single fork arm mount. It's perfectly portable and makes setup quick and easy. What's more, the NexStar SE breaks down into several lightweight and compact pieces, making it easy to transport, even in small vehicles. You'll have no problem getting the NexStar SE to your favorite observing site, or setting it up quickly in your backyard.
Of course, it's what's inside the mount that really counts. Sturdy construction from high-quality components gives NexStar SE the pointing and tracking accuracy needed to observe and follow your favorite targets with push-button ease. Use the included NexStar+ hand control to locate over 40,000 celestial objects, or take a Sky Tour and let your telescope show you the best objects currently visible.
Aligning your telescope is simple and painless, too, thanks to SkyAlign. This process makes alignment as easy as 1-2-3: just center three bright objects in your eyepiece and press ALIGN. For even easier alignment, attach Celestrons StarSense AutoAlign and your NexStar SE aligns itself! Celestron added their proprietary StarBright XLT optical coating to enhance light transmission making your images brighter and more detailed.
Advanced Features
The NexStar SE is compatible with all the high-tech accessories advanced users love. Provide GPS coordinates to your telescope with SkySync, or add automatic alignment functionality with StarSense AutoAlign. Its built-in wedge allows you to track long exposures. You can even remove the telescope's secondary mirror and replace it with a DSLR or astronomical CCD camera for wide field images captured at f/2 using a Fastar/HyperStar lens assembly. Or, if you're interested in imaging the Moon and planets, pair your NexStar 6SE with one of Celestron's Skyris cameras. From your first observing session and for years to come, the NexStar SE is your trusted companion.
View the Universe
The 6SE's six-inch primary mirror packs enough light-gathering ability to observe the best that the solar system has to offer: Saturn's rings, the cloud bands on Jupiter, and geographic features on the surface of the Moon. When it comes to deep sky objects, take your 6SE to a dark-sky site and you'll see hundreds of pinpoint stars in the Hercules Globular Cluster, the spiral arms of the Whirlpool Galaxy, and more.
Ratings and reviews
Celestron Nexstar 6SE SCT GoTo Telescope
Celestron Nexstar 6SE SCT GoTo Telescope
---