Celestron CPC 11-Inch StarBright XLT GPS SCT GoTo Computerized Telescope
Celestron CPC 11 inch GPS SCT GoTo Telescope
Celestron CPC 11 inch GPS SCT GoTo Telescope
Celestron CPC 11 inch GPS SCT GoTo Telescope
Celestron CPC 11 inch GPS SCT GoTo Telescope
Celestron CPC 11 inch GPS SCT GoTo Telescope
Celestron CPC 11 inch GPS SCT GoTo Telescope
Celestron CPC 11 inch GPS SCT GoTo Telescope
Celestron CPC 11-Inch StarBright XLT GPS SCT GoTo Computerized Telescope
Celestron CPC 11-Inch StarBright XLT GPS SCT GoTo Computerized Telescope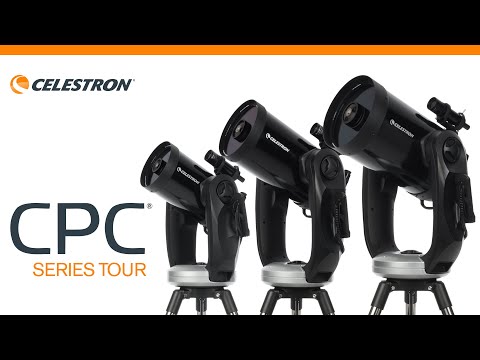 Product highlights:
Equipped with StarBright XLT coatings
NexStar computer control technology
Convenient remote hand control holder
Auxiliary port for additional accessories
Sturdy 2-inch steel legs with accessory tray
Easy to move telescope from one location to the next
Delivers quiet operation alongside large drive gears
Fast and easy alignment process
---
Need help deciding?
Contact us right now!
Call or chat with one of our experts.
In the box
Celestron Tripod Heavy Duty CPC 1100
Celestron Tripod Heavy Duty CPC 1100
Two Year Warranty
Celestron CPC 11-Inch StarBright XLT GPS SCT GoTo Computerized Telescope
You don't have to be an expert in astronomy to operate the Celestron CPC 11-Inch GPS SCT GoTo Computerized Telescope. This Schmidt-Cassegrain telescope is bundled with advanced features including NexStar computer control technology and StarBright XLT Coatings which enhances all your stargazing sessions. Quick and easy to setup, its simple to use and is suitable for a star viewing party or a college classroom. This Celestron Telescope is designed to enlighten your perspective from the moment you take it out of the box.
Celestron Tripod Heavy Duty CPC 1100
In the 1960s, Celestron's founder, Tom Johnson, created groundbreaking new telescopes never before seen on the consumer market. Today, Celestron's world-class team of optical and electronic engineers continues to push the boundaries of technology. With new innovative products, Celestron has shown they are still going strong in the field of astroimaging and astronomy products.
Advanced
The Celestron heavy duty tripod is a state-of-the-art tripod; it has fully adjustable legs with metal clamps for solid height adjustment.
Adjustable
The tripod has an adjustable height of up to 55" with dual leg support and an upper leg brace and 2.75" stainless steel legs. The tripod's folding center brace stays attached to the captive leg strap which results in easier transportation.
Accessory Tray
The tripod's molded accessory tray fits around the legs with the central shaft for additional leg support; the captive leg strap keeps the tripod safely and conveniently intact,
Ratings and reviews
Celestron CPC 11-Inch StarBright XLT GPS SCT GoTo Computerized Telescope
Celestron CPC 11-Inch StarBright XLT GPS SCT GoTo Computerized Telescope
---