92f6227e665265901b5022bf743540a126cabbb64c48a79e321df24e98da3468-22ae1ab3eaa131eb.jpg
0e6075954a5c1fd1672473ba506e6ad3466a506d01ffff17226d0380f8f268c8-0f865cc5a8d98171.jpg
cb0488a5239160e8f228c00927e31376a8feeb58e9372bcdf6bab7160ac6cd6b-147c9eabf6c1c652.jpg
cd9eea9c98cd29c037ea2bd05d213b40b5178487d9f001aae1bfc19b4bcd84f6-c75fedb5164bf49c.jpg
049066ac70b3a6e9a294e371154b31b772453048d75ff943350614b4a6996009-050832db64e17eeb.jpg
2e8b228dd3ec23c741ef4826b1e72ae93b572ef625437dcca19514f3cc3e2ae6-0117e2cd0720a4fe.jpg
9c9fb686c2b2b733bdb3fc80c8738998069384eb2b0e0ec891bb5f1d4fe60afc-c2fd7c954583c1c7.jpg
7f914fab07ad036fdd18bcb6bfaf63f2661250ec626918418ae2800a78f5ddee-8a7bd50ee6e9b871.jpg
fc5f5da8cd77c009ac1e3cab5abffb270a649253336c45f486ee3a67141a953c-eedc3ce8b85634bb.jpg
cbee396b357252f69599e7342f824b7d2307197dc862f3bcceb5c17a99771164-18c13a1906e0bfac.jpg
bb6c78cfb16ffcca11f249d62e381525b6d7494e14d57ff565fc009d965c422c-91ef25d1d79eab9f.jpg
1baaabd8844a1bdecfed2969b64fc1e21b8351695ee6f04695f9d75489dcbf65-39068eaac72941e1.jpg
1250007f63a12d0c2134c2d0afd2ac65695b711524cbf16e6f7294820edcfeb2-f275619341557911.jpg
4059284fdf82c7a0f5ff14897c9e86afae39c1daed27ccdce03665a2c7c1689e-a27244bfe42fb5f3.jpg
99c922510bb9d8d9e4bb7c1eeac3e09678c6c37a6337a124c981b2d0b3b563fc-80af2fa67e5f446b.jpg
062fa283508d07368e321ab36df870529c3986c48ae8c0c94b57c6ef10177673-29fbf4f4dcdf0a27.jpg
ba2cbfbc5128eff82d7df3e34afadae0f5f9b4313fc5ffa07df6af36d04daa8c-da9a2a692ed9520d.jpg
39bb0cb1eab50cd03796889e5123f352ac4c0afc1ff8ae4636627acf1aae9334-448a8fa7a2f6d0bb.jpg
Sony BRAVIA XR A95L 65" 4K HDR Smart QD-OLED TV (2023 Model)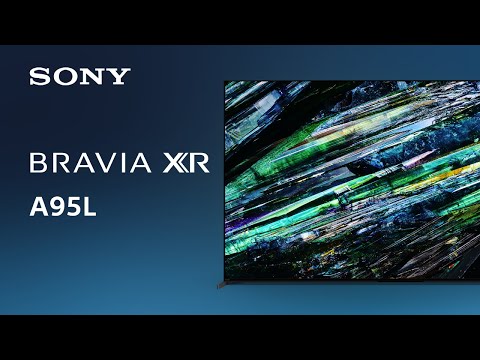 Product highlights:
Cognitive Processor XR delivers a picture with wide dynamic contrast and natural colors
QD-OLED screen delivers a wide palette of shades and hues, pure OLED black, and high brightness
Access to all favorite streaming apps with Google TV and voice search with Google Assistant, supports Apple Airplay
High-quality 4K UHD movies available with BRAVIA CORE app
Game Menu puts all gaming picture settings and exclusive assist features in one place
HDMI 2.1 features like 4K/120, VRR, and ALLM for high-performance gaming
Exclusive features optimize picture quality for gaming
Supports Dolby Vision, IMAX Enhanced, Netflix Adaptive Calibrated Mode
Multi-View to split screen and watch content from two sources at the same time
Acoustic Surface Audio+ and support for Dolby Atmos for true immersive audio
Acoustic Center Sync synchronizes TV speakers with select Sony soundbars for immersive sound
---
Need help deciding?
Contact us right now!
Call or chat with one of our experts.
In the box
Sony BRAVIA XR A95L 65" 4K HDR Smart QD-OLED TV (2023 Model)
Sony BRAVIA XR 65" Class A95L QD-OLED 4K HDR Google TV (2023)
Sony BRAVIA XR A95L 65" 4K HDR Smart QD-OLED TV (2023 Model)
Our brightest and widest range of colors and hues is powered by the intelligent Cognitive Processor XR. With a QD-OLED screen enhanced by XR Triluminos Max technology, experience color performance with up to 200% as much color brightness of a conventional OLED TV. Individually lit pixels produce pure black so your favorite movies, shows, and games burst to life on screen with extraordinary detail and depth.
Intelligent and powerful TV processing
See how real your entertainment can be, with immersive depth and lifelike picture quality, powered by Sony's intelligent Cognitive Processor XR. Hundreds of thousands of individual on-screen elements are processed and remastered in the blink of an eye, boosting color, contrast, and clarity, bringing astounding realism to your content.
Our best color ever
Experience our widest palette of colors with breakthrough QD-OLED panel technology. Enhanced by XR Triluminos Max, millions of self-illuminating individual pixels deliver more saturation and brightness to every color, revealing all the exquisite detail and subtle hues of real life.
Feel immersive realism with pure black and our brightest colors
Drastically transform the look and feel of your favorite content with enhanced QD-OLED contrast and color. By pairing our QD-OLED panel and XR OLED Contrast Pro, see up to 200% color brightness compared to conventional OLED TVs, bringing scenes to life with pure black and our brightest colors.
The entertainment you love. With help from Google
With 700,000+ movies and TV episodes, live TV, and more available across 10,000+ apps, Google TV takes streaming and live TV to the next level – bringing together your favorite entertainment from across your apps and organizing it all, just for you. Searching is easy – just ask Google. Try saying, "Hey Google, find action movies" to search across your favorite apps.
Movies on us with BRAVIA CORE
With the BRAVIA CORE app, enjoy the latest Sony Pictures Entertainment titles and the largest IMAX Enhanced collection. Simply redeem the included credits to choose from hundreds of the latest releases. You're also subscribed to an amazing selection of movies to stream anytime. With Pure Stream, get near lossless 4K UHD Blu-ray quality for stunning visuals and expressive sound.
All your game settings in one place
With Game Menu, quickly manage your gaming picture settings and exclusive assist features in a single convenient interface. Get access to features like Black Equalizer to reveal details in even the darkest shadows, apply a Crosshair overlay so you always have your enemy in your sights, and use the Screen Size feature to shrink your screen all the way down to a 27" monitor size for precision gaming on your big screen. And exclusively on the A95L, use Multi View to split your screen and enjoy watching content from two different sources at the same time.
Level up your gaming with HDMI 2.1 features
Sony TVs deliver a thrilling gaming experience with support for 4K/120, Variable Refresh Rate, and Auto Low Latency Mode as specified in HDMI 2.1. With 4K/120 you get up to 120fps in 4K resolution on compatible games, and input lag as low as 8.5ms, giving you the advantage in high-intensity gaming.
Perfect for PlayStation 5
Get detailed, responsive game play and feel the action all around you with Sony TV exclusive feature for the PlayStation 5 console. Auto HDR Tone Mapping automatically adjusts the HDR settings of the PS5 console to the TV for detailed, high-contrast scenes, and Auto Genre Picture Mode automatically adjusts the picture quality during gaming or streaming.
Cinematic content as the creators intended
Get extraordinary picture quality and enjoy your favorite content the way it was designed to be seen. Dolby Vision makes scenes come to life with striking highlights, deeper blacks, and vibrant colors. IMAX Enhanced delivers digitally remastered movies with full-screen pictures and more powerful sound. Netflix Adaptive Calibrated Mode uses the TV's ambient light sensor to optimize picture brightness based on your room's lighting conditions, so you can enjoy Netflix original content with studio picture quality. And BRAVIA CORE Calibrated Mode automatically adjusts to the optimal picture settings, creating an exceptional at-home movie viewing experience.
The screen is the speaker with sound and picture in perfect harmony
Hear an exceptional audio experience with more realistic sound and clear dialogue. With Acoustic Surface Audio+, actuators behind the TV vibrate to produce sound from the entire screen and elevate the soundstage, enabling sound to follow the action on screen. An integrated subwoofer delivers powerful bass and rounds out the sound for a truly immersive cinematic feel. And with Dolby Atmos support and 3D Surround Upscaling, everything you watch gets the true surround sound treatment.
Pairs perfectly with Sony soundbars
Paired with select Sony soundbars, our latest TVs go even further to bring you an unmatched audio-visual experience. Acoustic Center Sync synchronizes the TVs speakers with the soundbar, reinforcing the center speaker channel for clearer, fuller vocals.
Bring back lost texture and detail, the intelligent way
Bring back lost texture and detail, with reduced noise and blur, and see all your HD and digital content upscaled to near-4K resolution with XR Clear Image and XR 4K Upscaling. See the authentic features of people's faces, identify every blade of grass, and marvel at the precise texture of buildings and scenery.
Ratings and reviews
Sony BRAVIA XR A95L 65" 4K HDR Smart QD-OLED TV (2023 Model)
Sony BRAVIA XR A95L 65" 4K HDR Smart QD-OLED TV (2023 Model)
---