Sony SRS-XV900 X-Series Wireless Portable Bluetooth Karaoke Party Speaker
Sony SRS-XV900 X-Series Wireless Portable Bluetooth Karaoke Party Speaker
Sony SRS-XV900 X-Series Wireless Portable Bluetooth Karaoke Party Speaker
Sony SRS-XV900 X-Series Wireless Portable Bluetooth Karaoke Party Speaker
Sony SRS-XV900 X-Series Wireless Portable Bluetooth Karaoke Party Speaker
Sony SRS-XV900 X-Series Wireless Portable Bluetooth Karaoke Party Speaker
Sony SRS-XV900 X-Series Wireless Portable Bluetooth Karaoke Party Speaker
Sony SRS-XV900 X-Series Wireless Portable Bluetooth Karaoke Party Speaker
Sony SRS-XV900 X-Series Wireless Portable Bluetooth Karaoke Party Speaker
Sony SRS-XV900 X-Series Wireless Portable Bluetooth Karaoke Party Speaker
Sony SRS-XV900 X-Series Wireless Portable Bluetooth Karaoke Party Speaker
Sony SRS-XV900 X-Series Wireless Portable Bluetooth Karaoke Party Speaker
32232d8daaa2d616a16345ac555e7aa7bd0f9ba379349c555748f478f0ff3f2f-5ce4597fcf0011d6.jpg
Sony SRS-XV900 X-Series Wireless Portable Bluetooth Karaoke Party Speaker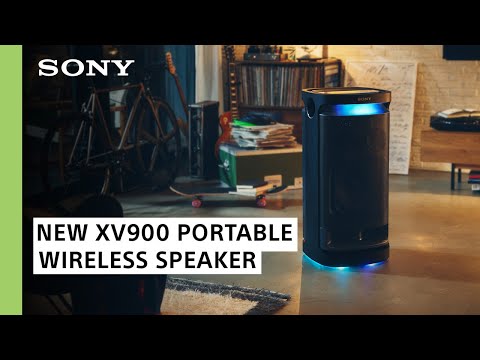 Product highlights:
Power your party with omnidirectional sound
Light up the night with omnidirectional party lighting
Up to 25 hours of playing time, plus quick charging
Sound made to move, with a built-in handle and wheels
TV sound booster delivers a brilliant audio/visual experience
Delivers power, clarity, and distortion-free sound
Personalize your sound with the Sony Music Center app
Be karaoke-ready with both microphone and guitar inputs
Plug, play, and charge, with easy USB connectivity
---
Need help deciding?
Contact us right now!
Call or chat with one of our experts.
In the box
Sony SRS-XV900 X-Series Wireless Portable Bluetooth Karaoke Party Speaker
Sony SRS-XV900 X-Series Wireless Portable Bluetooth Karaoke Party Speaker
Optical Cable
AC Power Cord
Limited 1-Year Warranty
Sony SRS-XV900 X-Series Wireless Portable Bluetooth Karaoke Party Speaker
Create the party atmosphere of your dreams with the Sony XV900 Wireless Portable Bluetooth Karaoke Party Speaker. It offers distortion-free clarity of sound with a punchy bass along with a host of other features.
Experience Omnidirectional Party Sound
Loaded with six tweeters around the front, sides, and rear, the Sony SRS-XV900 speakers take your party music to the next level with omnidirectional party sound. It has dedicated stereo drivers and an X-balanced speaker unit woofer that adds a punchy bass to the music.
Distortion-Free Bass and Clarity
Owing to its rectangular design, the X-Balanced speaker diaphragm allows for a larger surface as compared to traditional speakers. The large 320 mm x 320 mm woofer unit offers distortion-free bass and clarity.
Enjoy Detailed Sound
This speaker has a 3-way sound system that delivers detailed sound. An X-balanced speaker and a Jet Bass Booster port deliver high-quality distortion-free lows. The dedicated drivers allow mid-range and vocal clarity.
For Non-Stop Partying All Night
With 25 hours of battery life, expect the XV900 Speaker to keep the party going. You can enjoy up to 3 hours of music with just 10 minutes of charging. The speaker also features a battery care function that protects your speaker from overcharging.
Experience Concert Music at Home
Simply switch on the Live Music switch to create a concert-like atmosphere at home. You can easily boost the bass with just one button or allow the ambient lighting feature to level up the party mood with a variety of colors.
Take It Anywhere You Go
Featuring wheels and a convenient built-in handle, these Bluetooth speakers are portable and easy to use anywhere. It has an advanced control panel offering mode, setting, and lighting changes with just one touch.
Theatre-Like Sound At Home
The TV Sound Booster enhances the sound of audiovisual content. The deep-bass and high-frequency sound spread lets you enjoy an immersive audio-visual experience every time. Its 12.6-inch X-Balanced woofer and powerful midrange speakers fill the room with surround sound.
TV Sound Booster Activation
Make the most of the compatible Sony Music Center app to switch on the TV Sound Booster right from your device.
TV Remote Adjustments
Play video content on the TV without any hassle. Simply use the TV remote to adjust the voice or dialog level.
Karaoke Your Way
Nothing amps up the party scene like a karaoke session. Pick your track, plug in a microphone, and sing. Since the XV900 has two inputs, you may want to plug in a guitar and use the speaker as an amp to get the party going.
One Tap Bluetooth Pairing
The Sony XV900 pairs with your Bluetooth devices with just one tap. You can also easily connect the XV900 to your TV using the optical digital cable provided with it.
Sync Your Speakers
You can connect up to 100 compatible speakers (Compatible models: xb43, xb33, xb33, xb23, xp700, xp500, xg500, xg300, xe300, xe200) and sync your music and lights to create an exclusive party atmosphere.
Music Customization
With the Party Connect option, you can optimize audio settings, select playlists, and cue the next song.
DJ your Way Through the Night
Use Fiestable to gain access to DJ effects, karaoke, party lights, playlists, motion control, and more.
USB Play and Plug
Use the USB plug to play music from your USB devices. Additionally use the XV900 to charge other devices.
Ratings and reviews
Sony SRS-XV900 X-Series Wireless Portable Bluetooth Karaoke Party Speaker
Sony SRS-XV900 X-Series Wireless Portable Bluetooth Karaoke Party Speaker
---