StarTech USB 3.0 VGA Video Adapter
StarTech USB 3.0 VGA Video Adapter
StarTech USB 3.0 VGA Video Adapter
StarTech USB 3.0 VGA Video Adapter
StarTech USB 3.0 VGA Video Adapter
StarTech USB 3.0 VGA Video Adapter
StarTech USB 3.0 to VGA Adapter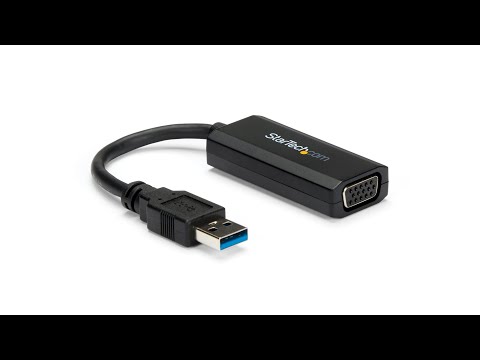 Product highlights:
Hassle-free setup while you're on the go
Drivers install automatically without an internet connection
Increase productivity by connecting an additional display
Exceptional external performance
Supports video resolutions up to 1920x1200
USB-powered operation with no external power adapter required
Supports both USB 3.0 and 2.0 computers
Pay over time for orders over $300 with Affirm.
---
---
---
Need help deciding?
Contact us right now!
Call or chat with one of our experts.
In the box
StarTech USB 3.0 to VGA Adapter
StarTech USB 3.0 to VGA Adapter
Limited 2-Year Warranty
StarTech USB 3.0 to VGA Adapter
This USB 3.0 to VGA video adapter works as an external video card, enabling the USB port on your computer to output video to a VGA display at 1920 x 1200 resolution. The adapter also features onboard driver installation, which means the adapter will work when you connect it, even without a software disc or Internet connection.
Save Time and Hassle With On-Board Driver Installation
For the ultimate in hassle-free installation, this USB video adapter features onboard drivers which prompts for installation as soon as you connect the adapter to your Ultrabook or laptop computer. This means you can maximize portability by never requiring an installation disc or Internet connection to install the device.
Increase Your Productivity By Connecting an Additional Display
Adding a second or third display to your computer can vastly increase your productivity by giving the freedom to access more applications at the same time. This video adapter is intended to support all of your business applications including web browsing, e-mail. spreadsheets and presentations. You can also leave your system video card available for more demanding applications such as gaming or CAD design, while you use the USB monitor for reference material.
USB 3.0 Performance For Business Applications
Using the high-bandwidth USB 3.0 interface, this adapter enables smoother scrolling through documents, higher refresh rates, and overall enhanced performance over USB 2.0. The adapter is optimized for use with USB 3.0, but for added compatibility, this adapter is also backward compatible with USB 2.0 computer systems supporting an 800 x 600 resolution at 60Hz.
Applications
Install an external video card on a device that does not have a CD-ROM or Internet connection. You can increase productivity by running multiple applications on different displays; check your email on one display while editing a document on the other. You can also add a secondary VGA display to your desktop without taking apart your computer to install a new video card. It allows viewing large or multiple spreadsheets across multiple displays
Ratings and reviews
StarTech USB 3.0 to VGA Adapter
StarTech USB 3.0 to VGA Adapter
---