Vox VX50 KB 50-Watt Keyboard Amplifier (White)
Vox VX50 KB 50-Watt Keyboard Amplifier (White)
Vox VX50 KB 50-Watt Keyboard Amplifier (White)
Vox VX50 KB 50-Watt Keyboard Amplifier (White)
Vox VX50 KB 50-Watt Keyboard Amplifier (White)
Vox VX50 KB 50-Watt Keyboard Amplifier (White)
Vox VX50 KB 50-Watt Keyboard Amplifier (White)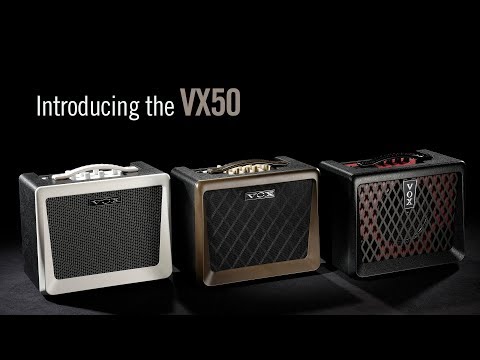 Product highlights:
High 50-watt output power from a compact unit.
Provides warm vacuum tube sound of Nutube
Has coaxial speaker delivers clear output
Bass reflex structure ensures ample output
Three-channel design, with volume controls
Three-band master EQ for controlling the sound
CH3 input can be switched between Line/Mic
Includes Aux in, Phones out, and Line out.
Revolutionarily lightweight and compact
ABS chassis ensures high durability
Pay over time for orders over $300 with Affirm.
---
---
---
Need help deciding?
Contact us right now!
Call or chat with one of our experts.
In the box
Vox VX50 KB 50-Watt Keyboard Amplifier (White)
Vox VX50 KB 50-Watt Keyboard Amplifier
User Manual
Limited 1-Year Warranty
Vox VX50 KB 50-Watt Keyboard Amplifier (White)
The compact and lightweight Vox VX50 KB 50-Watt Keyboard Amplifier features Nutube, the new vacuum tube. With a coaxial speaker that outputs clear sound even to the high-frequency range and a bass reflex structure that reproduces rich low-frequency sound with ample power, this amp delivers high-quality sound from a compact, lightweight unit. The three-channel design provides independent volume control for each channel, and CH3 supports mic input. This amp can also function as a simple and easily transportable PA system. A full complement of input/output jacks is also provided, including an Aux In jack, headphone jack, and a Line Out jack to connect to a PA system. This amp is also ideal for on-stage use as a monitor amp.
Compact Yet Durable Design
Despite its high 50-watt output power, the lightweight 9 lb body and compact design make transportation easy. The one-piece ABS chassis ensures high durability and excellent sound quality while keeping the weight light.
The Warm Vacuum Tube Sound of Nutube
Using Nutube, the new vacuum tube, this amp achieves an output power of 50-watt while being compact, lightweight, and power-efficient. In addition to enjoying the rich overtones and sonic power of vacuum tubes, you'll also appreciate the clear tone with compression that mainly enhances piano and electric piano sounds.
Coaxial Speaker Provides Clear Output
The coaxial two-way speaker features a powerful eight-inch speaker plus a tweeter. From a bountiful low range to clear highs, the output is transparent-sounding while ensuring a sense of volume. Another significant advantage is the excellent sense of positioning you receive from the VX50's coaxial speaker. Even the sparkling highs of a piano or synthesizer will be expressed in every detail.
Bass Reflex Structure Provides Ample Output Power
A proprietary, optimized bass reflex structure is used, with every detail adjusted precisely for the response of keyboard instruments. The chassis uses ABS polymer for its light weight, durability, and excellent acoustic properties. This allows for a 3D design that would be impossible with wooden material and achieves the ideal cabinet resonance. In addition, wood is used for the baffle, achieving the optimal resonance for a keyboard amp. While the chassis is polymer, a distinctive sense of high quality emanates from the stony-finish exterior and a white/black color scheme based on a keyboard motif.
Three-Band Master EQ Allows Flexible Sound Control
The three-band master EQ with Bass, Middle, and Treble controls is common to the three channels. It provides the essential and adjustable control you need to shape your sound.
Three-Channel Design Meets The Demands of Any Scene
It has a rich array of input/output jacks. This unit's three-channel design meets the needs of any scene: three keyboards, two keyboards, and a mic, or a stereo keyboard output plus a mic. It can also act as a simple PA system. In addition to a master volume, independent volume controls are also provided for each channel 1-3. Furthermore, each psychic also has a Clip indicator to prevent distortion caused by excessive volume. CH3 is also equipped with a Phase switch. When a mic is connected to CH3, this switch can correct phase interference with instruments attached to CH1 and CH2 or reduce low-frequency acoustic feedback. A full complement of input/output jacks is also provided, including an Aux in jack for connecting your audio player or rhythm machine to enjoy jam sessions, a Line Out jack that can be used for connection to a PA system, and a headphone jack that's ideal for practicing at home.
Ratings and reviews
Vox VX50 KB 50-Watt Keyboard Amplifier (White)
Vox VX50 KB 50-Watt Keyboard Amplifier (White)
---